How much does it cost to develop an App?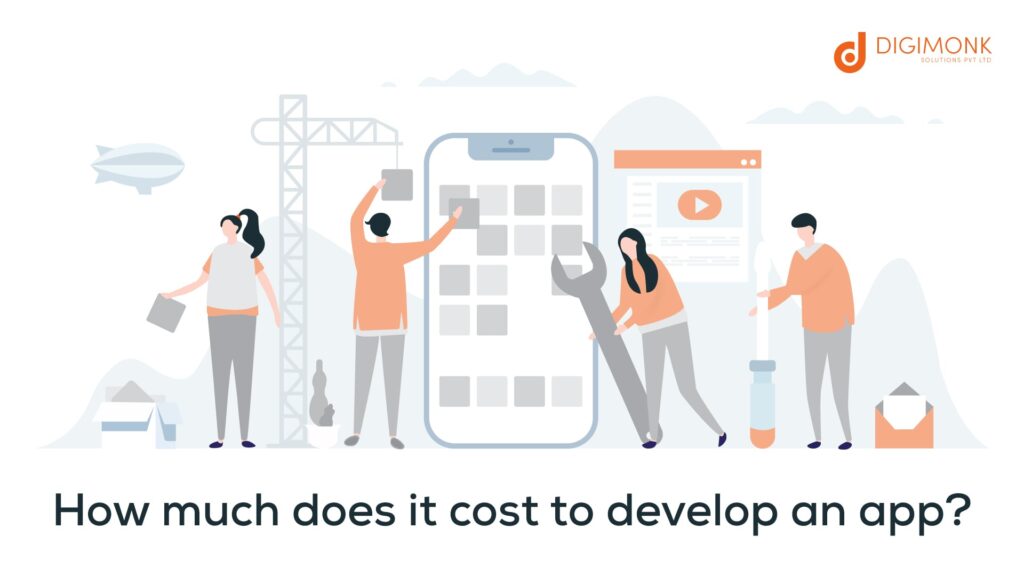 When developing an app, whether for business requirements or to kickstart a side hustle, the first thing that strikes the mind is the cost of it.
The cost of labor is the main factor influencing the price of developing an app. For instance, choosing offshore developers is going to be significantly inexpensive in comparison to going with domestic developers. On top of that, if your concern is the reputation and credibility of the company, you will have to pay even more.
However, most of the time, the upfront numbers that you get are not always all-inclusive. After all, there is a gamut of factors that should be considered, both by the customer and the developer, during the rigorous procedure of app creation.
Even if you are still considering the development of an app and are creating a blueprint, one thing you must not forget is that it requires a significant amount of time and financial commitment. Coming to that, how much should you be exactly spending on this development? In this post, let's take you through the basic cost and prices of app development. Read on.
Reasons that Affect the Cost of App Development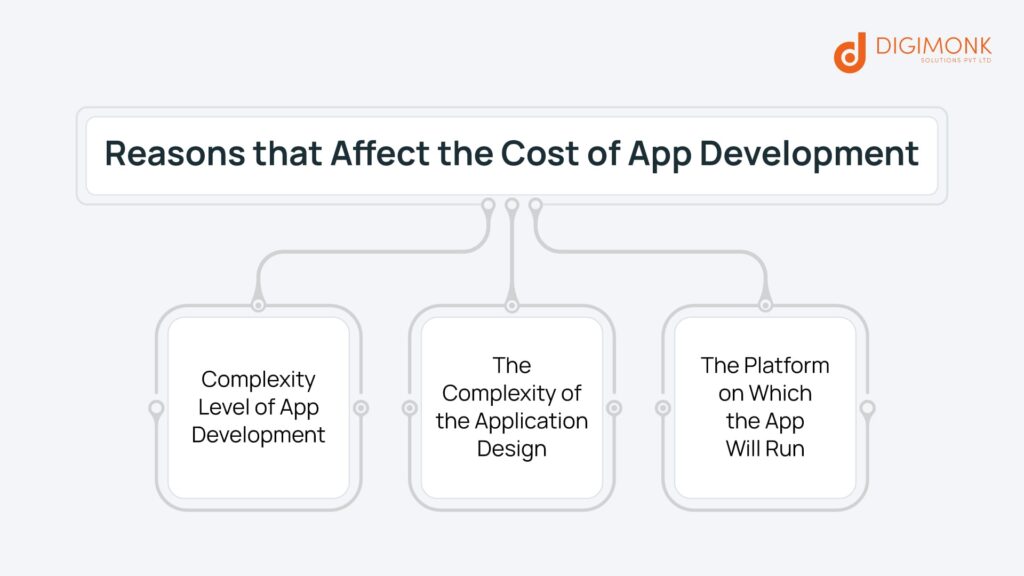 1. Complexity Level of App Development
Simple apps require less time to develop and are less expensive. However, the development time and cost will grow if you wish to incorporate more sophisticated mobile app features. So it's important to ask yourself these questions:
How many functions will your app have, exactly?

Is the business logic of the application complicated?

How many displays, switches, and other features will it have?
The degree of complexity must be kept in mind if your software has too many features; your budget may soon go overboard.
2. The Complexity of the Application Design​
More adaptations result in increased expenditures, similar to application development. Consider the following factors for a thorough overview:
User Experience:

Depending on user involvement levels and other factors, such as button placement, color psychology, and users' eye patterns, an app's price may vary.

User Interface:

The price range of a mobile app will also be highly impacted by its aesthetics, such as typography, layout, color, screen, and more.

Branding:

To differentiate your app from the hundreds of other comparable companies, you would need to spend more on branding.
3. The Platform on Which the App Will Run​
There are two diverse platforms on which a mobile app runs: Android and iOS. Android is based on an improved version of the Linux kernel and other open-source software. It is developed by the Open Handset Alliance – a consortium of developers. However, its extensively used version is developed primarily by Google. iOS, on the other hand, is an OS developed by Apple Inc. It powers iPhones and iPads and is the second-most installed mobile OS in the world.
An approximate price for creating an Android or iOS mobile app is as follows:
Evidently, there is a slight price difference between these two platforms. If you want, you can either choose one of the two given platforms to launch your mobile app. Conversely, you can develop an app for one operating system and build it for another. For example, Instagram was initially developed for iOS users and was launched in 2010. Later, in 2014, it was made available to Android users as well.
You can also create a hybrid app if you want to target the iOS and Android markets simultaneously. Developing these apps is significantly less expensive than developing native apps concurrently.
Here are some examples of various apps and their costs:
Tinder is a geosocial networking and dating app with over 67 million downloads annually. Users can connect with potential suitors by swiping photographs right or left on the app's straightforward interface. A dating app with all the same features as Tinder would cost roughly $1,00,000 to develop.
An application for the company Ikea was created with augmented reality. Almost all of the furniture images in their catalogs are 3D models.
These programs raise the cost but provide many functionalities because of the numerous new features, integrations, and security considerations. Something similar might cost around $45,000 and can be developed in approximately 1,000 hours.
Uber is a ride-hailing service that links passengers with drivers nearby. At the moment, the app has more than 118 Million users.
Do you want to build anything similar? An app similar to Uber typically costs around $80,000 to produce and takes 1200 hours to complete.
When it comes to creating, uploading, and sharing videos, TikTok is a well-known name in the social media platforms industry. The variety of functionalities offered by this platform includes video creation, video editing, video sharing, messaging, liking, commenting, and more. To build a similar app, the major features and capabilities of it significantly define the cost of development. An app like TikTok can cost around $68,000 to $70,000 and take approximately 1,200 hours to be developed.
Using a mobile application called Airbnb, tenants and individuals needing temporary housing can connect.
The business generates income by imposing a platform tax; customers pay a booking fee of 5% to 15%, while hosts pay 3%.
Do you have the desire to design a similar app? A mobile application for Airbnb can cost up to $1,00,000 to develop and take up to 1000 hours to complete.
Jack Dorsey founded the social media and microblogging site Twitter in 2006. It is currently one of the famous social media platforms used by millennials and gen-Zs alike. Not just that, it is also being used for business purposes by start-ups and well-established companies.
Twitter has a range of features to offer, such as:
User profiles and feeds

Creating and sharing posts (textual, visual, or both)

Messaging

Retweets and quote retweets
Owning software like Twitter costs around $40 million on average.

Now that you know how much it costs to create applications comparable to those of well-known businesses, it's time to examine the variables that determine app expenses.
Platform Costs: Pros and Cons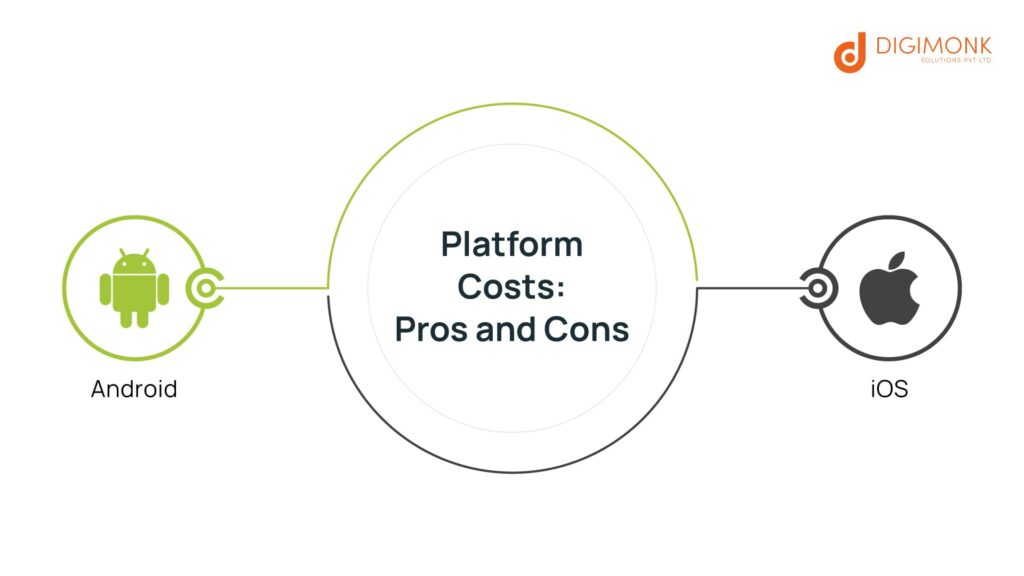 Before you move ahead with your app development, answer this question: which platform have you selected? Is it Android or iOS? Undoubtedly, both marketplaces have immense profits to offer. However, if you wish to start with a platform that meets your requirements efficiently and then expand to another after generating a Return on Investment (ROI), you shouldn't doubt this decision either. To make things easier for you, we have analyzed both platforms in detail so as to help you in making the right decision.
Based on Linux, Google launched Android, an open-source operating system for mobile devices. The OnePlus, Google Pixel, and Samsung Galaxy are a few examples of Android-powered devices.
Android SDK, Java, and Google Play Store submission criteria are all components of the Android app development ecosystem.
Advantages of developing apps on Android
Greater overall user numbers across all categories, and greater market penetration, especially in developing and emerging markets

A sizable open-source community with access to popular Android mods like Paranoid Android or CyanogenMod (which was replaced by LineageOS)

Greater freedom to innovate and deeper access to the Android operating system
Cons of developing Android apps
On average, Android consumers spend less money and participate in less diverse media.

Android developers may incur higher development expenses due to more backward compatibility issues, different versions, and a wider range of phone architectures and screen sizes.
Apple created the iOS operating system specifically for its line of mobile devices, which includes the iPhone, iPad, and Apple Watch.
iOS SDK, Swift (Objective-C for legacy apps), and Apple App Store submission requirements are all parts of the ecosystem for developing iOS apps.
Benefits of developing iOS apps:
On average, iOS users spend more money and engage in a wider variety of media, including more M-Commerce (mobile shopping).

A higher-quality app with better security typically results from stricter regulations and stronger quality control.

Most consumers are running the most recent versions of iOS thanks to Apple's consistent release cycles and tightly regulated device ecosystem, which frees developers to concentrate on creating the most recent APIs. Additionally, developers have fewer phone models and screen sizes to deal with.
Cons of creating iOS apps:
Typical drawbacks of a closed-source development environment include fewer innovation opportunities, restricted operating system access, and more onerous laws and regulations to follow.

Apple releases updates frequently, which could increase maintenance costs.
It's crucial to remember that a skilled team or mobile app developer may get around most of the technical drawbacks of choosing one platform over another. The platform that most of your clients favor using is even more crucial. The Android vs iOS argument is largely cultural, particularly in the US. Market research should be done to establish which platform best fits your customer demography.
Cost by Type of App Development Technologies: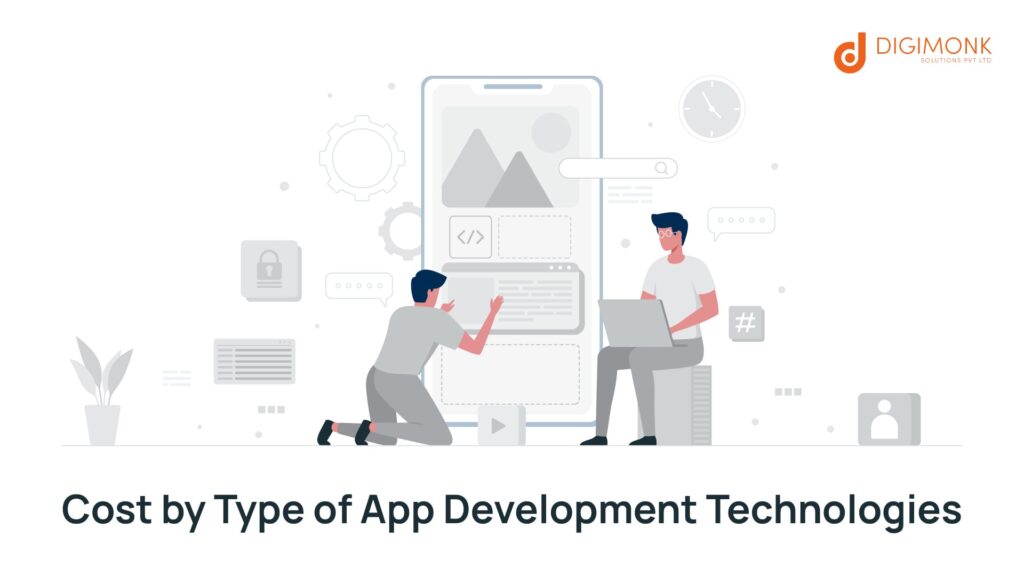 The average price for designing a mobile app is between $40,000 to $3,50,000.
Another essential factor that should be put into consideration is the type of application that you wish to develop. Listed below are some of the most popular app categories, along with development estimates:
App Development Cost You Might Not Know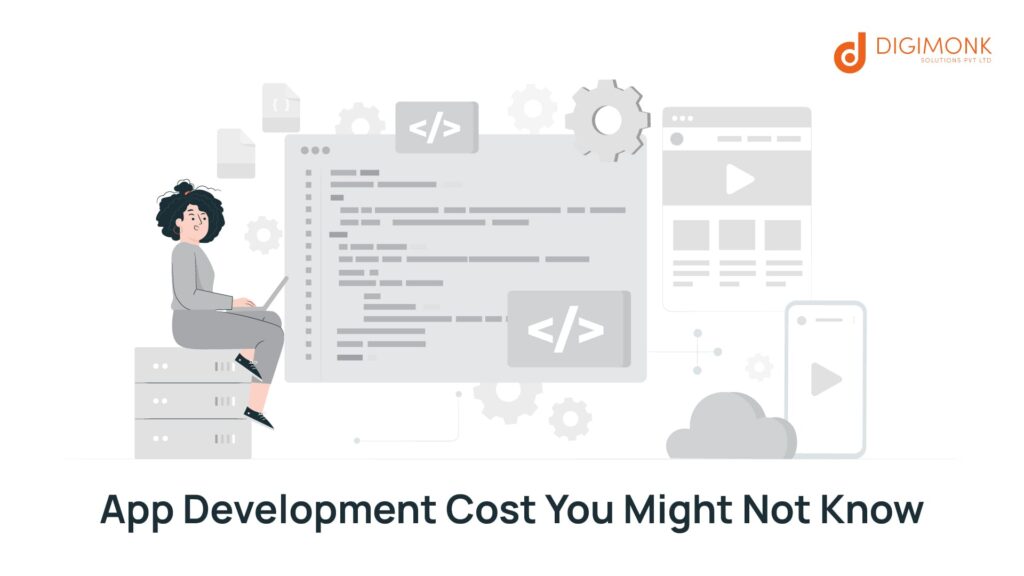 Some easily missed expenses when evaluating a mobile application's cost may impact your company's success. The two most crucial are marketing and maintenance, and let's talk about what each involves
When it comes to the marketing aspect, you will have to invest a certain amount in diverting traction and users to your mobile application. Thus, keep in mind that the marketing expense for your app should not be more than twice or thrice the initial development cost.
Budget between $2 million to $3 million for yearly marketing costs if the price of producing your mobile app is around $1,00,000.
This money will go toward the costs of email marketing, social media advertising, search engine marketing, sales funnels, landing pages, copywriting, public relations, and customer relationship management systems.
App maintenance is known as the expense needed to keep the product available, maintain usability, and boost performance. Regular, on-demand, or both types of maintenance are possible.
The best maintenance budget for your app is double what it costs to develop it. A major part of the maintenance expenditure will be put into infrastructure expenses, subscription fees, third-party integrations, registration, SSL, server subscription fees, tech support staff, and cloud hosting services.
Cost of Making an App Based on Feature Set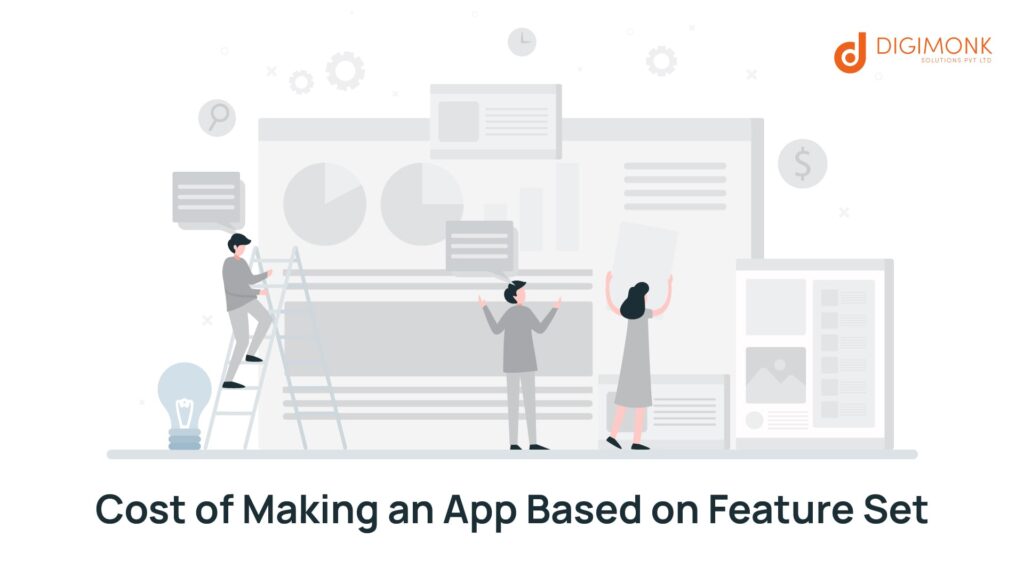 There are several functions included in these apps. The development cost increases with the number of functions and features it contains. To help you understand how features will impact your app development costs, let's list those features.
1. Mobile OS Versions and Device Models Support
You should be aware that maintaining compatibility with outdated hardware and operating systems will raise the price of developing an app.
The good news is that these outdated devices have a very small market share. Unless you develop an enterprise app, you do not need to support them.
Your app must have caching techniques in place if you want it to function without network connectivity. Although it comes at a cost, its functionality offers an excellent user experience. The situation becomes tougher when you try to sync the app data across different devices.
App architecture with cross-device sync and local cache functionality will cost between $8,000 to $12,000.
A modern mobile app cannot function without notifications. Businesses use notifications to read news, download episodes, subscribe, and keep users interested.
Push notification implementation costs differ from app to app, and the complexity of the notification system will determine this—budget between $1,500 to $3,000 for adding the most fundamental push alerts.
Custom push alerts could cost up to $3,500 to $5,000.
A server component and integration are included in the price of implementing custom notifications.
4. User Profile & Social Login
In a user profile, users can enter their contact information, preferences, etc. It's a characteristic shared by all mobile social networking apps. A user profile in an app should cost about $2,500 to implement.
Users can log in using their Twitter, Facebook, or other social network accounts with social login. A social login function typically costs around $500 to $600 to integrate into each social network.
A smartphone is in portrait mode when it is held normally and in landscape mode when it is turned horizontally. Few mobile apps adapt their user interface to landscape mode, whereas most apps only function in portrait mode. The budget for the entire software will increase by 30% if landscape mode functionality is added.
6. Support for Localization and Multiple Languages
Your program should support the right languages if it caters to consumers from several nations. Make sure the app supports diverse languages, such as Chinese, Hebrew, Latin, French, etc., depending on where the target audience resides. This functionality is fundamental. Localizing an app typically costs no more than $500.
Tips for keeping app development costs under control
Though several factors affect your app development cost, there are certain things you can consider to keep it under budget. Here are some tips to help you keep the development costs under control:
1. Cross-Platform Development
To develop mobile applications more quickly, use a framework like Xamarin, Flutter, JavaScript, Python, Go, Java, Kotlin, PHP, C#, Swift, or more. In this manner, you can work on the app's versions for both platforms at the same time.
Comparing the cross-platform strategy to native app development, you can save between 10 and 30% of your budget. If your software relies heavily on custom animations, avoid the cross-platform approach. When developing a complicated mobile app, our advice would be to use Kotlin or Java for Android and Swift for iOS.
Starting with an MVP may seem like an early surrender. On the other hand, it's a practical approach to test your idea with actual users in the real world on a shoestring budget. The preliminary input will assist you in developing the best budget for a fully functional app version. Your efforts should be concentrated on such MVP features that your target users are looking for.
3. Utilize Ready-Made Solutions
As previously said, creating a custom component rather than using an existing product is not a good idea. Because of how well the mobile market is doing, you may use several SDKs to construct a whole app. However, you should be able to distinguish between mobile SDKs and code templates (also known as code snippets).
Never purchase code samples. You will be asked to discard these by your development team or to pay for an expensive reworking session. Mobile SDKs are not at all like code snippets from websites like codecanyon. In contrast to code snippets, which are sold "as is," SDKs come with official support, making them a safe investment.
The complexity of the app under consideration and the location of developers hugely drive the app development cost, and these are some factors to comprehend for future endeavours.
Given the higher adoption rates of both iOS and Android, going for an app for each of the platforms simultaneously is a wise decision.
Additionally, the COVID-19 epidemic has substantially impacted the price of developing a mobile app because it has caused app developers to relocate and work remotely.
Tages :  
App development cost
How much does it cost to build an app
How much does it cost to develop a app
Mobile app development cost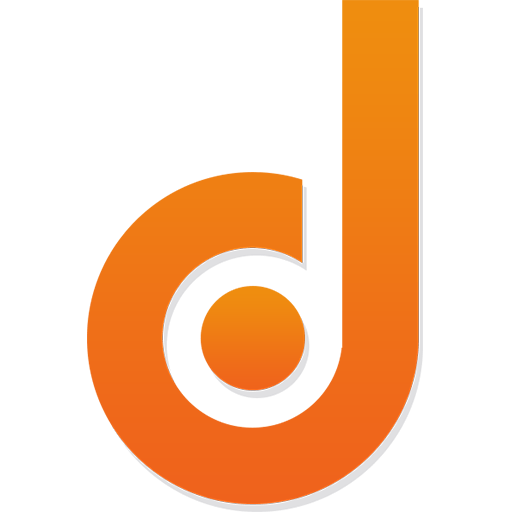 Hi, I am Hitendra, the founder of Digimonk Solutions. I have a passion for technology and its ability to make a difference in people's lives. With a strong background in the industry, I started Digimonk Solutions to bring innovative solutions to businesses and organizations.
My focus on utilizing technology to drive growth and efficiency has propelled Digimonk Solutions to great heights, and I am committed to continuing this trend into the future.
I am proud of what we have achieved at Digimonk Solutions, and I look forward to shaping the future of technology with my team.